On the 5th January 2021, national restrictions were put in place which mean that all children who can stay at home should stay at home. We are now, therefore, providing a high quality remote education for our pupils.  Our Risk Assessment has been updated in light of the new lockdown and can be accessed via this link. 
School is open for children of critical workers and vulnerable pupils. Arrangements must be made with the headteacher before sending these pupils to school and we will ask for evidence from an employer to support any request made. The government has stated that parents and carers who are critical workers should keep their children at home if they can and consider the spirit of the lockdown, as in the March 2020 lockdown. 
Following the Covid closure on 23rd March 2020, we were only open for the children of key workers and vulnerable pupils. Shortly after the 1st June, we opened school up further for pupils from Reception, Year 1 and Year 6 and, for the final week of term, Year 5.
The government has announced that they plan for schools to be open for all pupils from the beginning of the autumn 2020 term and that pupils' attendance will be compulsory.
https://www.gov.uk/government/publications/what-parents-and-carers-need-to-know-about-early-years-providers-schools-and-colleges-during-the-coronavirus-covid-19-outbreak/what-parents-and-carers-need-to-know-about-early-years-providers-schools-and-colleges-in-the-autumn-term 
We are currently preparing for a full opening of school from Thursday 3rd September 2020. Pupils in all year groups except Reception should return to school on this date. Our new Reception cohort start their staggered intake from Monday 7th September and will all be fulltime in school by Tuesday 15th September. 
Parents should be assured that our key priority is to ensure the safety of our pupils. Our leadership team has and is undertaking a detailed risk assessment. We have already put many protective measures in place but further steps need to be taken to enable us to safely open for all pupils. We are planning for changes that are as supportive as possible for children and families, whilst being manageable for the school.
We will post our risk assessments, amended policies and detailed arrangements on this area of the website. It will be very difficult to pre-empt every situation and we will continually review and update our arrangements.
Covid Risk Assessment
To view a copy of our draft Risk Assessment for re-opening in September (updated in October), click here. This will be reviewed at the end of August/beginning of September and must be signed off by the governing body at this point.
Social Distancing  – In the summer term, pupils were socially distanced in their 'class bubbles' but this will not be the same when they return. Within a 'class bubble', pupils will not need to socially distance except from the adults and in class, pupils will be sat side by side to reduce transmission of Covid. Pupils in a 'class bubble' do have to socially distance 2m from pupils in other 'class bubbles' and all adults have to socially distance 2m from pupils and each other. This is going to be a challenge to organise and manage and it will require everyone (school staff, pupils and parents) working together to keep everyone as safe as possible.
Entry and Exit Route Plan for pickup and collection times – we will continue to operate a one-way entry and exit system in order to minimize contact with others. Pupils, parents and carers must adhere to the routes that they are given.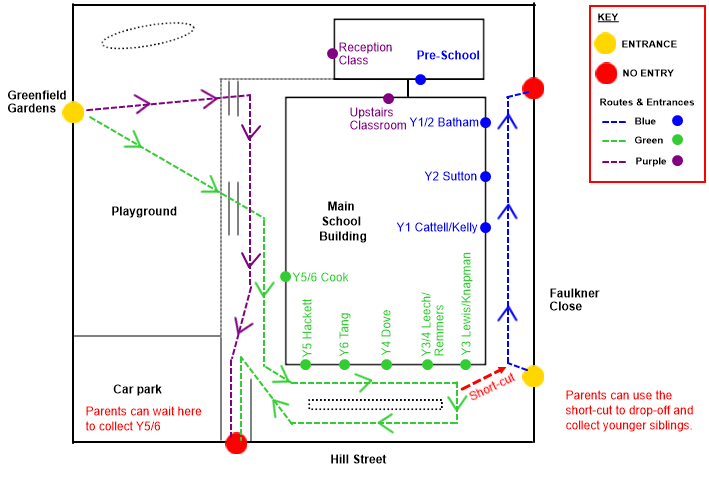 To enable social distancing outside of 'class bubbles', there are staggered start and finish times for different age phases.
Y5/6 pupils start at 8:45am and finish at 3:20pm
Y3/4 pupils start at 8:55am and finish at 3:30pm
Y1/2 pupils start at 9:00am and finish at 3:35pm
Reception pupils start at 8:55am and (from 15th September) finish at 3:20pm
For the convenience of working parents, we have tried to keep start/finish times as close together as safely possible (and close to the usual timings) but safety has to be the priority. In the interest of safety and reducing the risk of transmission, it is crucial that parents strictly adhere to the set times and procedures. If pupils arrive continually late, it will be impossible to manage this with a full school and we will have to set times further apart. We appreciate that this will make it more challenging for working parents so we hope that everyone will adhere to set times so it will not be necessary.
In July 2020 the local authority wrote to parents to set out their expectations for the September return. The school office will re-open on Tuesday 1st of September.
Signs and Symptoms of coronavirus and what to do https://www.gov.uk/government/publications/covid-19-stay-at-home-guidance/stay-at-home-guidance-for-households-with-possible-coronavirus-covid-19-infection
Getting Tested – Guidance on coronavirus testing, including who is eligible for a test and how to get tested https://www.gov.uk/guidance/coronavirus-covid-19-getting-tested 
Documents
To view copies of documents regarding the wider opening of Greenfield, please click on the links below:
Thank you for completing our survey letter
FAQs for parents regarding wider opening of Greenfield
Additions to Child Behaviour Policy
Fire Drill and Evacuation Procedure
Additions to Staff Behaviour Policy