Schools are currently making plans for the wider opening of schools from 1st June 2020. Currently children of key workers and vulnerable pupils are able to attend school by arrangement with the school office. The government has prioritised pupils from Reception, Year 1 and Year 6 to be the next group to attend school if parents choose for them to do so. https://www.gov.uk/government/publications/closure-of-educational-settings-information-for-parents-and-carers/reopening-schools-and-other-educational-settings-from-1-june
Parents should be assured that our key priority is to ensure the safety of our pupils. Our leadership team is currently undertaking a detailed risk assessment and putting in place a range of protective measures before we will open our doors to more pupils. We are planning for changes that are as supportive as possible for children and families, whilst being manageable for the school.
Now that the announcement to open has been made by the government, we will be using the first week of June to ensure we are completely ready for more pupils to attend, therefore start dates will be staggered later that week or week beginning the 8th June 2020. We will only invite more pupils back once the protective measures outlined by the government have been put in place. Implementing the measures and accommodating key workers' children and vulnerable pupils, may mean that we do not have capacity to take all pupils should parents wish them to attend in the Reception, Year 1 and Year 6 groups.
For the week commencing 1st June, children of key workers and vulnerable pupils will continue to access provision as previously arranged with the school office.
We will post our risk assessments, amended policies and detailed arrangements on this area of the website. It will be very difficult to pre-empt every situation and we will continually review and update our arrangements.
Covid Risk Assessment
To view a copy of our COVID Risk Assessment, click here.
Entry and Exit Route Plan for pickup and collection times – we are operating a one-way entry and exit system in order to minimize contact with other. Pupils, parents and carers must adhere to the routes and times that they are given.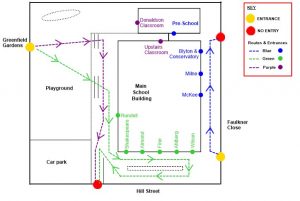 Signs and Symptoms of coronavirus and what to do https://www.gov.uk/government/publications/covid-19-stay-at-home-guidance/stay-at-home-guidance-for-households-with-possible-coronavirus-covid-19-infection
Getting Tested – Guidance on coronavirus testing, including who is eligible for a test and how to get tested https://www.gov.uk/guidance/coronavirus-covid-19-getting-tested 
Documents
To view copies of documents regarding the wider opening of Greenfield, please click on the links below:
Thank you for completing our survey letter
FAQs for parents regarding wider opening of Greenfield
Additions to Child Behaviour Policy
Fire Drill and Evacuation Procedure
Additions to Staff Behaviour Policy