There were some wonderful creations in our Year 1 and 2 Design and Technology workshops yesterday! The children designed and made 'Firework Vehicles', thinking about the importance of the wheels turning freely and quickly around the axle. All of the models were tested on the hall floor, a small ramp and an extra large ramp to see how well they would travel, so that improvements could be made where necessary.
Thank you to all the adults who came in to help the children during the afternoon. It really does make a difference having all those extra pairs of hands, and the children really love having their 'grown-ups' in school.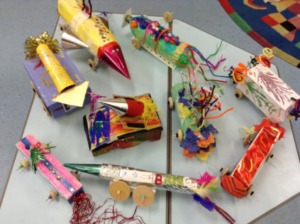 Year 3 and 4 are designing and making Victorian shoe box theatres on Monday afternoon next week, and Year 5 and 6 will be wowing us with their Viking longship creations! We hope lots of you will be able to join us.